Share Your Western Heritage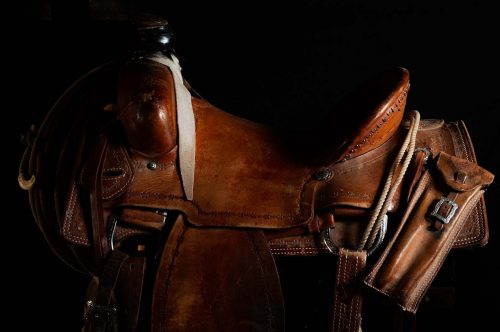 Saddles are more than just tack, they're an intimate part of a riders story.
Share your Western heritage with generations to come through a dramatic and artful photograph of an essential piece of every rider's equipment – the saddle.  
So much history is behind the scenes of this beloved piece of western heritage-the creation of the saddle maker, miles of moving cattle, brandings, training, fears overcome and confidence boosted; memories of childhood.
Oh the stories our saddles can tell!
I invite you to let me help capture these memories with a custom photograph you will be proud to share with others.
What better way to showcase the western lifestyle than from your own legacy!
Commission Services include:
---
Each saddle is as unique as the rider and my desire is to create a custom piece of art that reflects these characteristics.
I will work with you to create your heirloom photograph. What parts of the saddle are you drawn to? What memories of the rider do you wish to remember? Let's showcase your story!
Commission Value for creating your photograph:
$250 studio fee (Image capturing only)
Photographs – From a variety of angles I will create several photographs for you to choose from. You may order a variety of sizes and presentations of your chosen images.
Additional Costs:
If needed, I can travel to you-$.70 per mile travel beyond a 20 mile radius of my ranch in Okaton, SD.
Saddles may also be shipped to my ranch studio.  Shipping costs (including return shipment) is your responsibility.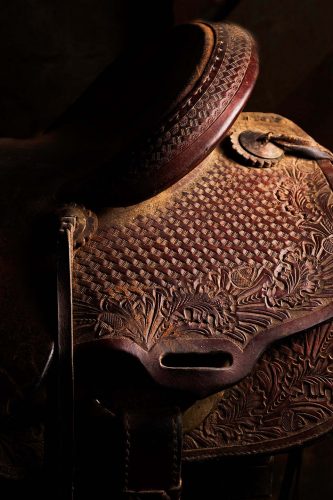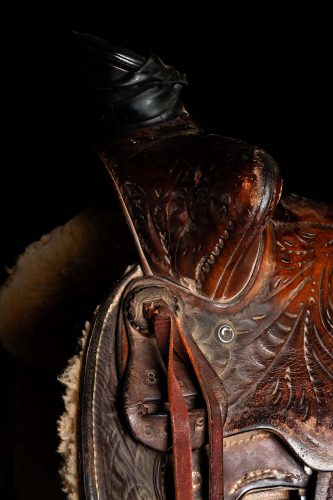 Grandpa Roghair's Saddle:
---
Allow me to share about two of the saddles that hang in my barn:
Three generations have used Grandpa Mel's saddle.
Grandma Clarice purchased it from Sears Roebuck & Co. around 1967 for Grandpa. Many miles were spent in this well beloved gift, including adding a sofa pillow around the saddle horn as a comfortable seat for several of his children on long cattle drives. When Grandpa wasn't riding on any given day, my husband, Marty would use it as a boy when he outgrew Grandma Clarice's saddle. Marty continued to use it until the Christmas of 2010 when his four brothers, Chane, Brice, Brad and Lonnie went in together to have Brice make Marty's own (The Rancher, pictured at the top).
Grandpa's saddle sat waiting in our barn from 2010 until around 2015 when my son, who was five at the time, started riding more regular. Now, my children have the privilege of sharing Grandpa's saddle (as well as Twilight, our trusty mare) whenever we move and work cattle.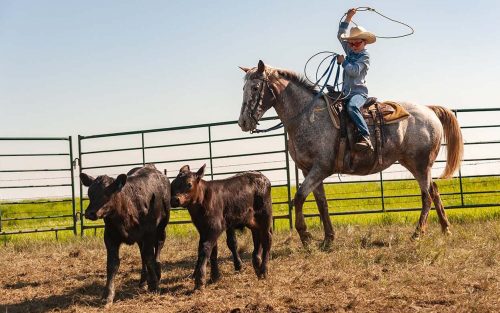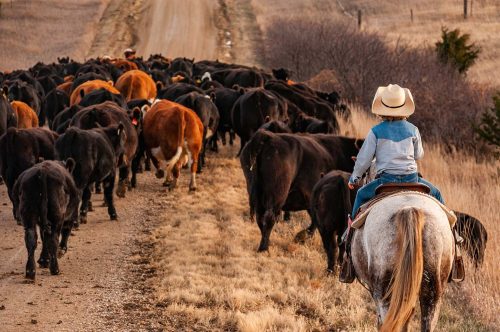 All photographs are created with the final print in mind.

---
A few things to consider for your custom piece:
What size do I want to showcase our history?
What medium will look best in our home?
What is my budget?
Prints are valued starting at $17 for a traditional 5×7 Kodak Lustre print.
Purchase a print in any medium over a 16×24 size and receive a FREE social media size file for all your online needs, valued at $65.
To browse the prints options, please click on the Prints & Pricing button below.
To schedule your heirloom saddle photograph session, click below to contact me: