Rushmore Plaza Civic Center Theater Lobby, Rapid City, SD – 10:00 AM- 7:30 PM daily
Crazy Horse Memorial, Crazy Horse, SD
Booths open at 8 am each day
My Ranch Okaton, SD, 11:00 am – 4:00 pm
Grandview Gallery, Okaton, SD, 7:00 – 8:00 pm
Downtown Sioux Falls, SD
Booth #753 (South side of the Cinedome in the parking lot-my usual location if you've visited before)
9:00 am – 5:00 pm
 State Game Lodge grounds, Custer State Park, Custer, SD
Thursday | 10am-5pm
Friday | 10am-5pm
Saturday | 9am-4pm
Rehfeld's Art & Framing downtown Sioux Falls, SD – 6:00 PM- 8:00 PM
November 11 |

Murdo Christmas Fair
 Harold Thune Auditorium |  Murdo, SD
10 am – 3 pm
November 11-12 |

Zonta Fair
 Ramkota River Centre |  Pierre, SD
Saturday | 9 am – 5 pm
Sunday | 10 am – 3 pm
I travel to several regional juried art shows as well as participate in local gallery exhibitions. On this page you will find my show schedule, current Galleries with available photography for purchase, and present as well as past art exhibitions.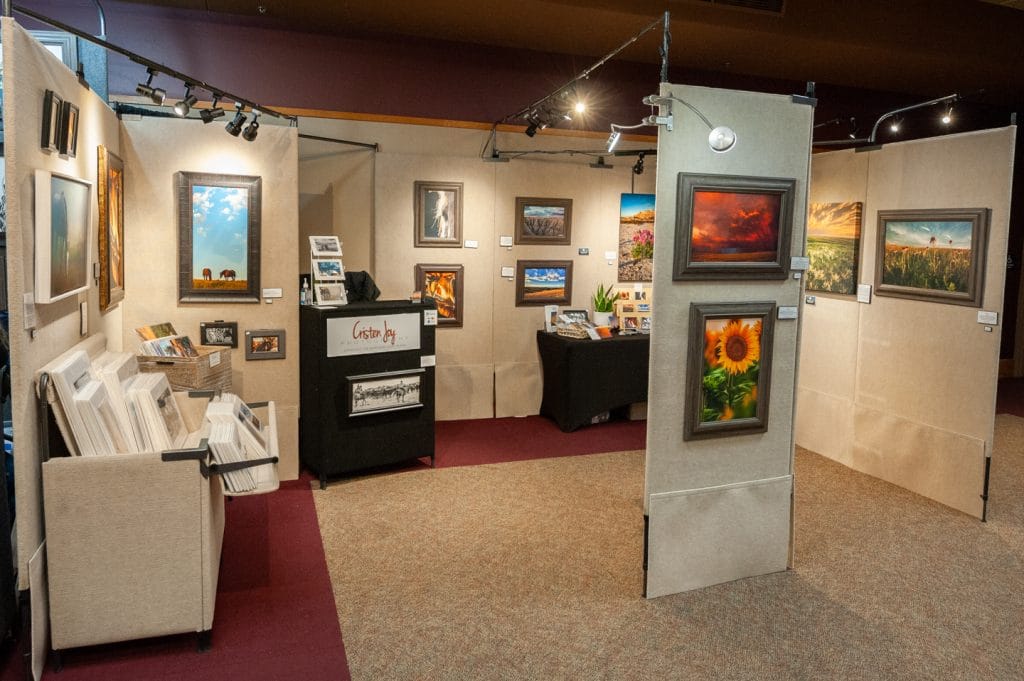 A view of my art show booth. Stop in and take a look!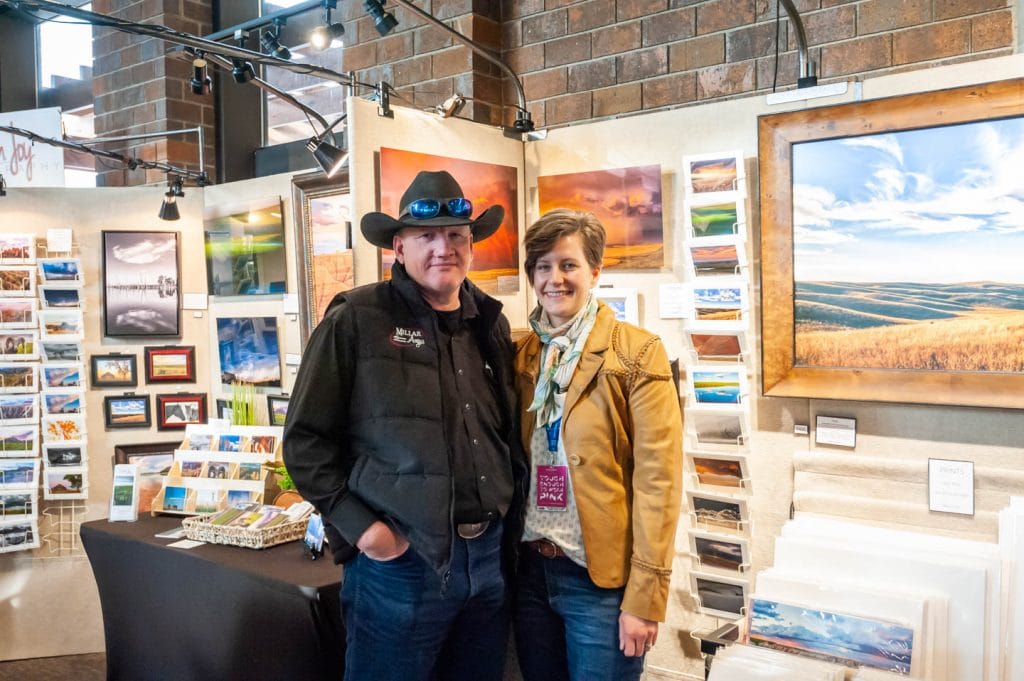 My husband, Marty, and I at the 2020 Black Hills Stock Show Western Art Show.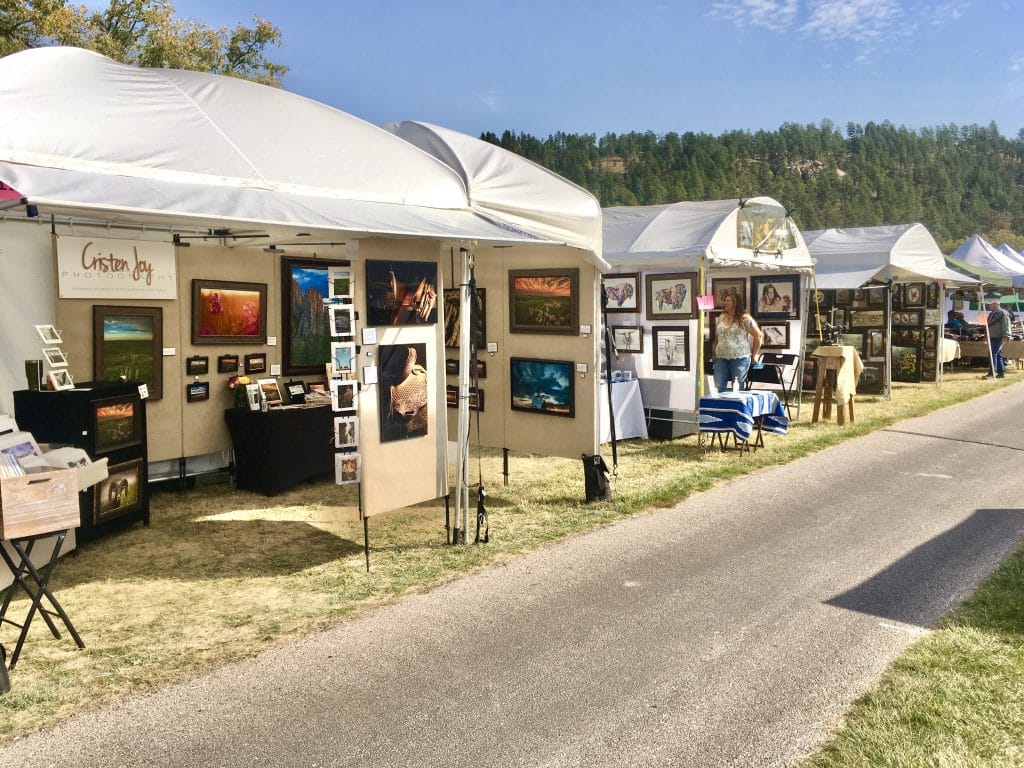 My booth along the sidewalk of the Buffalo Roundup Arts Festival, 2020.
Prairie Edge Fine Art Gallery
South Dakota Art Museum Store
Center for Western Studies | Augustana University, Sioux Falls, SD
August 1 – November 18, 2022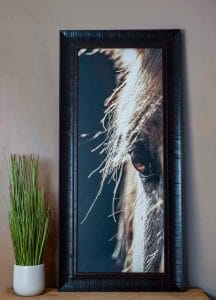 Artists of the Black Hills Great Small Works IV Show
Date: November 23-December 31, 2018
Location: Prairie Edge Fine Art Gallery, Rapid City, SD
Artists of the Black Hills Annual Show
Date: July 27 – October 31, 2018
Location: Dahl Arts Center, Rapid City, SD
Date: April 6 -28, 2018
Location: Dahl Arts Center, Rapid City, SD
Date: July 13 – October 31, 2017
Location: Center for Western Studies, Augustana University, Sioux Falls, SD
Date: April 23 – June 19, 2017
Location: National Weather Center, University of Oklahoma, Norman, OK
Date: Summer 2017
Location: Dahl Arts Center, Rapid City, SD
Date: March 10 – April 29, 2017
Location: Dahl Arts Center, Rapid City, SD
ArtFest MidWest, Des Moines, IA | 2019
Artists of the Plains Art Show & Sale, Sioux Falls, SD | 2018 – 2019, 2021
Black Hills Stock Show Western Art Show | 2016 – 2022
Brookings Summer Arts Festival, Brookings, SD | 2016 – 2019, 2021
Buffalo Roundup Arts Festival | 2015 – 2021
Dakota Western Heritage Festival, Ft. Pierre | 2016 – 2019
Deerfield Festival of Fine Arts, Deerfield, IL | 2017
First Lady's Prairie Art Showcase, Pierre, SD | 2015 – 2018
Gift from Mother Earth Art Show & Sale, Crazy Horse Memorial, SD | 2018 – 2022
Prairie Art Showcase, Pierre, SD | 2021, 2019
Sidewalk Arts Festival, Sioux Falls, SD | 2015 – 2022Summer Arts Festival, Yankton, SD | 2016 – 2017
Wayzata Art Experience, Wayzata, MN | 2017