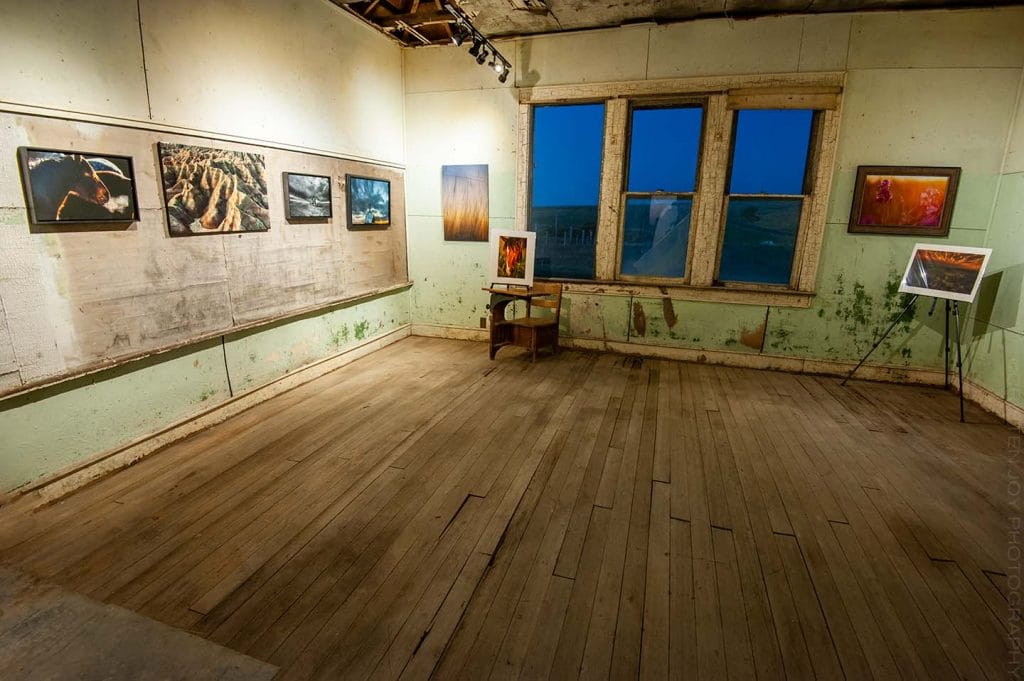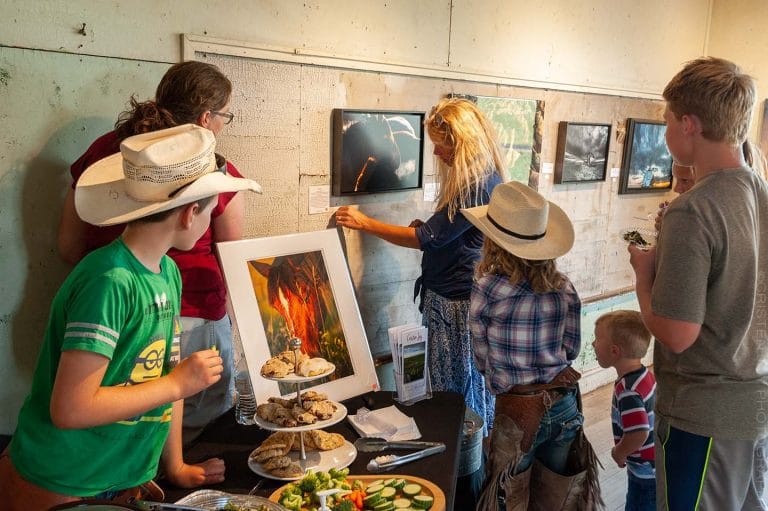 In 2020, I celebrated five years in business with an open house in the old school building that now sits on our family ranch. I was blown away by the support of the local community and travelers from over four hours away. In 2021, my family held another open house in the building that my family now refers to as the Grandview Gallery. Once again, you came!
Grandview Township School originally stood in its namesake township, about four miles west of Okaton, SD. Built between 1908 and 1911 on the land of the homesteader, William F. Kennedy. In 1953, my husband's great-grandfather, Henry Roghair, purchased the land from Mr. Kennedy.
In the 1980's, the school was moved six miles east to what is now my home. The previous owner of the ranch had hoped to make use of it. Since then, the former building of education has observed the prairie from it's hilltop vista.
It has long been my dream to restore the Grandview school into a gallery and art education building! I desire to keep the original building looking as close to what is currently seen as possible while functional for the future. What has stood in the way are finances. I have nothing to pour into this space to restore it's charm.
Since the first open house a few patrons, who share my vision of restoration, have generously donated to make the Grandview Gallery a reality!
Starting in spring 2023, we hope to begin Phase II of IV!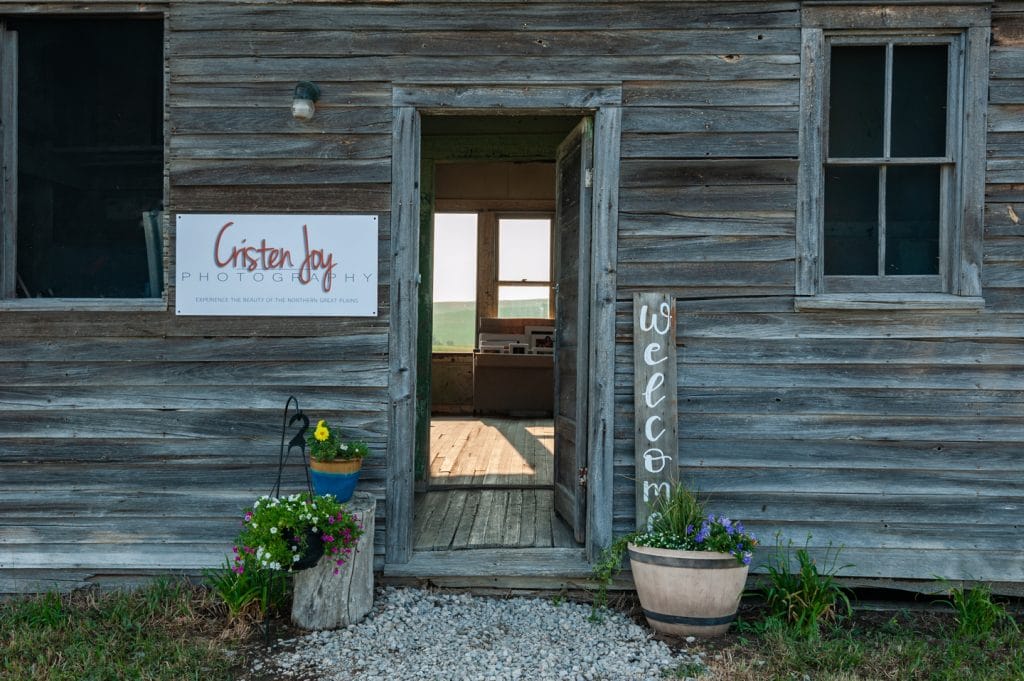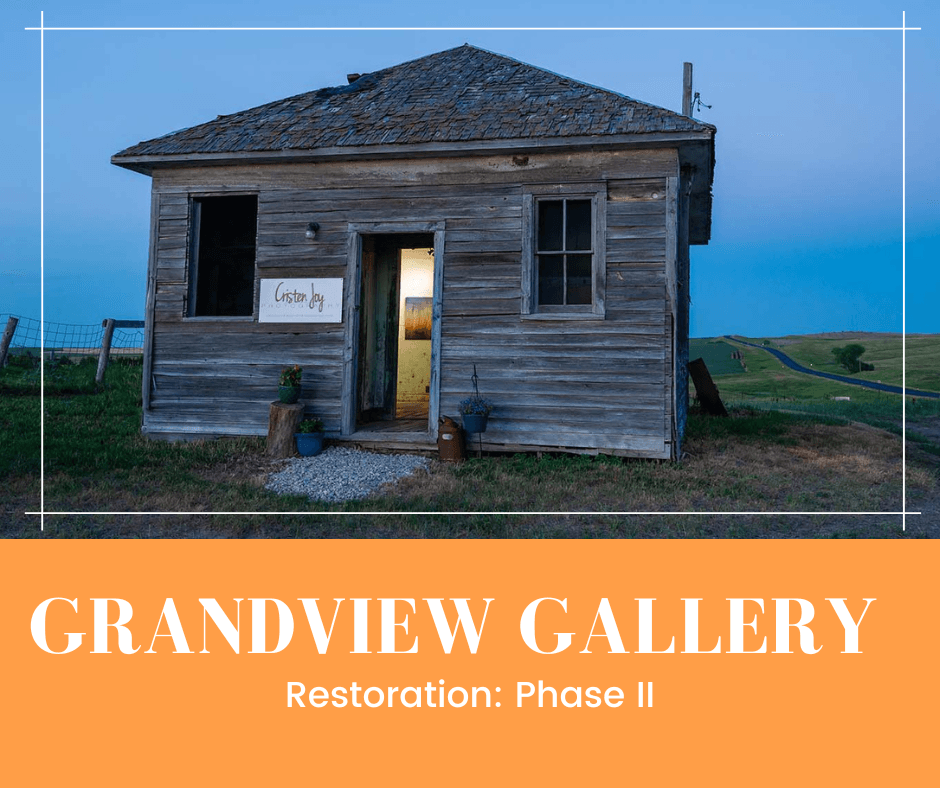 Completion of Phase I ended in fall 2022. That included moving the building to pour concrete foundation pillars, returning the building to it's location of the past 40 years, leveling and adding in new floor joists.
Now that Grandview Gallery is sitting on a foundation we need to continue the exterior work to ensure a lifetime building of art experiences!
Phase II includes: roofing, siding and windows.
Phase III : Interior drywall, flooring, insulation
Phase IV: Electricity, Heating/Cooling, ADA accessibility
A local contractor is spearheading the project and as much as possible, we will use our local Jones County businesses for the materials
Gallery home for Cristen Joy Photography
Showcase regional artists for community gallery exhibitions
Host art education opportunities for the area youth and adults
Those events will be as follows:
Bi-monthly gallery exhibition featuring professional/emerging regional artists in a variety of art disciplines.
Bi-monthly art classes taught by professional artists in a variety of art disciples for the community to learn and have hands on instruction from those professional artists
Cristen Joy Photography will used the building to meet with clients occasionally, and host an annual summer and Christmas Open House. The main reason for the gallery is to bring art opportunities to the community to bring enrichment, enjoy life and thrive. Communities with art are thriving communities!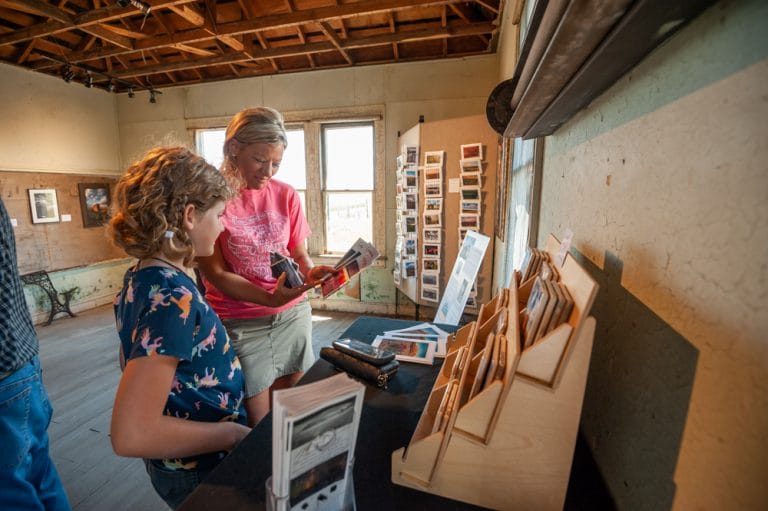 Grandview Gallery offers the opportunity to experience part of our community history by these community events taking place in this historical building.
Restoration Progress Photos
Current Funding for Phase II
Grandview Gallery Restoration Gift
$25.00 – $1,000.00
Additional information
| | |
| --- | --- |
| Gift Amount | $25, $50, $100, $150, $200, $300, $500, $1,000 |
Grandview Gallery has been established as an LLC and all gifts to help with the restoration are considered as such. All gifts are being matched by an anonymous contributor up to $25,000.
All gifts will go directly into the restoration project of Grandview Gallery. If you chose to use PayPal, a 3.49% processing fee will be deducted from your amount, by PayPal. You do not need a PayPal account to give through PayPal.
If you would prefer to directly give to my account at our local bank, I have an account set up for Grandview Gallery. Please call First Fidelity Bank in Murdo, SD (605.669.2492).

Thank you for your part in the incredible process of restoring this historical prairie gem!