I was going through old photo files a few months back. I came across some of the early times of selling my work at craft shows.
 
Occasionally I've heard the phrase, "You've got to start somewhere!" It's so true! I started somewhere and looking back, am rather embarrassed by what my business looked like at the start but now am more proud of what it's become.

With 2018 fresh and new, I thought it would be fun to step back and see how the years have changed and shaped my photography business into what it is today.
In 2006, I set up my photography on a table at our local craft fair on Veteran's Day. It was laid out, flat, on the table. I had a nice table cloth and did what I could with what I had, working from an almost non-existent budget.
I sat behind the table on a chair, down low.
In order to see my photos, craft fair attendees would have to strain their necks looking down at what I had. I had nothing at eye level and that thought never entered my mind.
I didn't sell very much, but I was excited about what I did sell.
I was only shooting with 35mm film at the time, newly married and living out on the prairies without a good photography lab near by. This made photography a little difficult for me, compared to living in the Chicago suburbs with my trusty photography lab just down the street.
In 2011, I was able to purchase my first full-frame digital SLR camera (equal to the 35 mm in sensor size and of excellent quality images), which is the camera I currently use. It's a powerhouse and we've been creating wonderfully together for the past six years!
In 2012, I started going to two local craft fairs held once a year in Murdo and Belvidere. I built a display to hang framed prints, as well as the jewelry I enjoyed making. I would bring a tall chair with me so that I was eye level with people and realized more would stop and engage in my booth. As you can see from the photos below, the display is no longer flat on the table. I may have solved that problem, but now it looks like chaos! Was my booth photography, or jewelry?
At the time, I never thought it was chaotic or unclear what I was selling.
November 2012
 I continued to set up at the two local shows for the next few years, enjoying both the photography and the jewelry but it was challenging keeping up with both sites that I had on Etsy.
November 2013
I was shooting portraits to help fund my landscape inventory, small that it was. Being more of an introvert, portraits aren't my favorite type of photography as landscapes are. In the fall of 2014 I made the decision to focus solely on Fine Art Landscape Photography. I ended my jewelry business, though I still make pieces here and there. I realized I needed to pick one business and put all my attention on that.
In November 2014, at the Belvidere craft fair, I met another small business woman who was going to another fair in January 2015, the Rancher's Workshop in White River. She suggested I try that one, too. I did. From that fair I learned about the Bullananza in Winner in February.
While at the Bullananza, I was reading a photography guide I'd received from Photoshelter, a website hosting company for photographers that I'd just started to use. One of the questions the guide asked was: What is the intent of my work? Based on that intent, who is my target market?
I began to ponder what I really wanted to do with my photography. Who I was targeting to purchase and why was I even in this business in the first place.
I realized at the Bullananza, that bull buyers on that day were not there to buy art. Yes, some of them did but this type of show was not my target market to take my work seriously as an artist.
Also, a few days before this show, I'd taken my first digital photograph that made me realize the prairie was what I wanted to focus my work on. Some of you own it, South Dakota Prairie.
I knew I wanted to go a different direction with my photography than the traditional prints. I want to not only hold to the integrity of a well captured photograph, but to also create an art piece.

In March of 2015, I withdrew from our savings account and invested in my first printing of Giclee canvas wraps, metal prints and thin gallery wraps. I was part of a three day pop-up show for a business in Pierre. I sold one piece through that pop-up, made some great connections and a wonderful friend.
March 2015
Based on those connections, I learned about several art festivals in South Dakota. Just newly trying to figure all this out, I realized that art festivals were my target market and not craft shows.
I tried one more craft fair that spring with a new display my husband helped me make. I sold my first South Dakota Prairie triptych. I'd once been told that no one around South Dakota would purchase my prairie photographs since this is what people see out their windows every day. The triptych went to a local farmer, who saw similar views from his house and still appreciated my work. I was beyond thrilled! It was my first large piece ever sold and several people stopped and really admired my work. This was the first time this happened to me and it was then that I started to take myself and my work more seriously.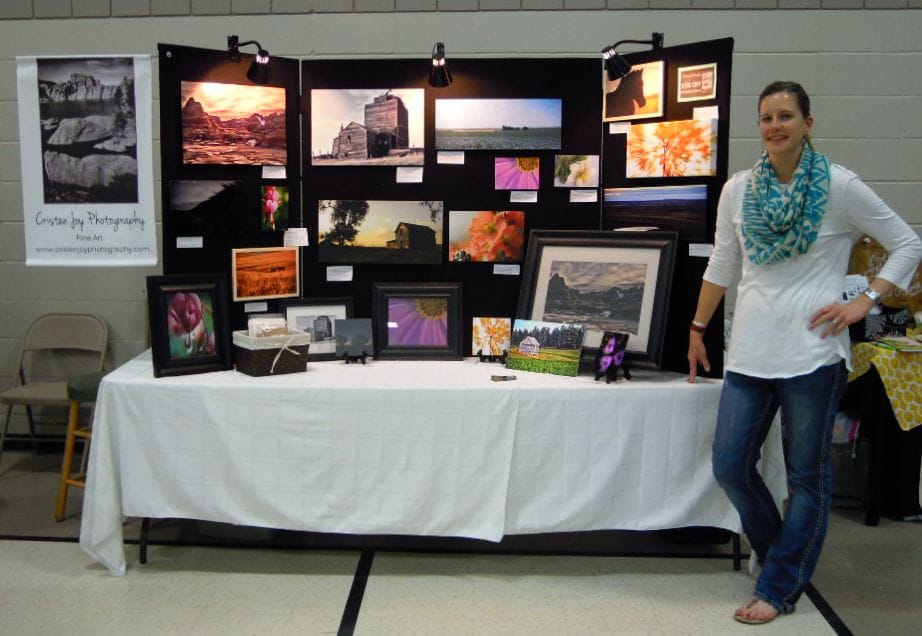 April 2015

I applied to the Sidewalk Arts Festival in Sioux Falls and the First Lady's Prairie Art Showcase (for the third time). I was accepted into both! When I received the acceptance letter from the First Lady I both screamed and cried. I'd been rejected the previous two years and couldn't believe that I was included for that year. I like to think that changing the perspective of my business and restructuring my website had much to do with it.
Now that I was going to an outdoor show, this provided a new challenge for me. A tent and panels. I did my research on affordable tents within the budget I had to work with and made my own panels from wooden screen doors and outdoor carpet.
One of the panels was pushed over that day at the Sidewalk Festival and one of my prints was ruined.  My husband created a system for me to attach them to the tent for the next show, the Buffalo Roundup Arts Festival in Custer.
September 2015
At the 2015 First Lady's Prairie Art Showcase, I was proud of my work and proud of my display. I had my best sales that weekend.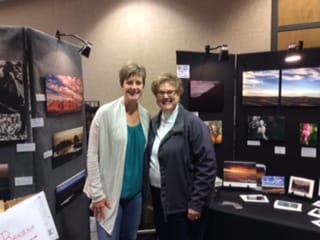 October 2015
2016 saw me at the Stock Show Western Art Show in the Theater Lobby with my handmade set up.
February 2016

 

 
That summer I attended the Brookings Summer Arts Festival and started to realize that I wanted more light in my tent for customers to see my work better.
July 2016
I invested in a Light Dome for the rest of the 2016 festivals. This tent takes me three times the time to set up, but it's worth every moment for a better display. I was beginning to realize that the aesthetic feel and effort put into the presentation of my work made a big difference. Bright light is more inviting and comfortable and art work hung up is easier to see and enjoy. 
August 2016
This fall, I was able to afford Pro Panels. For me, they are a game changer and have taken my photography display to a whole new level of professionalism. I'm proud of how I'm now able to present my work and feel as though I've come a long way. Like I said earlier, I'm rather embarrassed by what my display looked like in the beginning and how bad some of my photography was. I've built my body of work in a way that represents my view of the prairie in various forms-the landscape, the architecture and the cowboy lifestyle.
I'm so grateful to those who have walked this journey with me, my husband who has helped build and create ideas, those who've helped set up and tear down my booth when I needed an extra hand, my kids for holding open the door for me as I carried items to the car and now trailer, to you my buyers, friends and family-Thank You! 
I've heard it said that many businesses fail within the first two years. Cristen Joy Photography is going into it's fourth official year and is stronger than ever! I'm excited to see what the years hold!