"There is not a square inch in the whole domain of our human existence over which Christ, who is Sovereign over all, does not cry, "Mine!'"

-Abraham Kuyper
The wind howls past the house. I sit in the north west corner of the living room, today the coldest corner of the house. There is frost on the baseboards and the windows. Perhaps the two feet of blowing snow and -33 F windchill has something to do with it.
Our power has remained constant. Our main heat source is electric, though we do have a small propane heater and will huddle in the basement should the power go out. I will also be able to use my propane stove, which can make tea with the help of a match to light the burner.
In the past two weeks South Dakota has endured Winter Storm Diaz, a four day blizzard, and this week's Winter Storm Eliot the week before Christmas. The state has been shut down more days in the past two weeks than it ever was the past three years. Blizzards are life threatening.
My father-in-law, Melvin, often talked about the Judd's. A family that died in a blizzard long before the National Weather Service ever gave names to the storms. Melvin had seen the Judd's earlier that day as they walked on their way home to beat the storm. They never made it.
I sit at my living room corner office, wrapping my hands around a freshly poured cup of Christmas tea with a splash of cream. My eyes gaze out the large picture window, watching the snow travel across the front yard. Wind carved snow drifts have been created the past two weeks. Their beauty sharp and intricate.
The brightness of the sun is almost blinding. But oh, to see the sun today is glorious! To gaze beyond 20 feet visibility is delightful!
At the moment, my husband is doing all he can to start the tractor. The horses have almost finished the hay and he's itching to check on the cows. They have endured the storm eight miles north of us, sheltered in Hanson Creek. It's a deep and wonderful creek full of places of childhood (and adult) exploration. Countless hours have been spent in creative play by many Roghair children and friends.
Marty hasn't been able to venture to the cows for three days. The visibility has been deathly and the risk of life was great. The Judd's remain in my mind.
Marty is wise and prepares what he can, but we must trust the Lord's care. He has given us this job to do and Marty strives to the best of his ability. Yet, we have to trust in the Lord. What else is there? Worry and fretting leads only to anxiety and stress, unwanted friends I know all too well.
In the past two years, our family has endured fire, drought, tornadoes, blizzards, a third surgery on Marty's face, the death of Melvin and my grandpa, our beloved horse and my dear dog, and cancer. Marty asked me what I thought the Lord was teaching us.
Remaining steadfast was my answer.
Steadfast : to be firmly fixed and not subject to change, to be firm in belief and determination, and to be loyal and faithful.
These words well define my husband. I have known well only one other man who has endured much and remains faithful, my dad.
Steadfast doesn't mean perfect or without wavering. A tree is steadfast and yet when the harsh winds come it bends and pulls, yet it's roots remain anchored to the foundation.
But I will sing of Your strength; I will sing aloud of Your steadfast love in the morning. For You have been to me a fortress and a refuge in the day of my distress.

O my Strength, I will sing praises to You, for You, O God, are my fortress, the God who shows me steadfast love.

Psalm 59: 16-17 ESV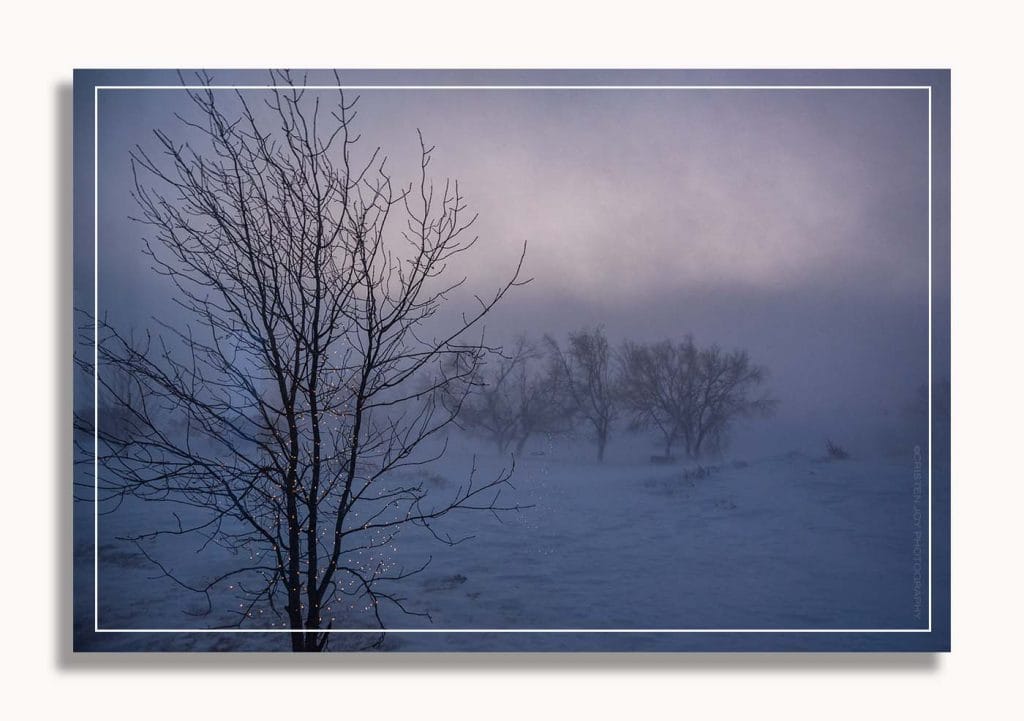 As the year comes to a close, there are several things I've been contemplating.
First, I was asked a few weeks ago what trips I'd taken or places I'd explored for new photographs. The only trips I was really able to take this year was to Rochester, MN, multiple times for treatment and surgery at Mayo. I photographed the architectural landscape and found great delight in that. I have plans to explore more of the architecture in the communities of South Dakota, not just the prairie/Badlands/Black Hills landscape.
But in all honesty, I've been exhausted.
I've felt pressure to "perform" with shiny new photographs just to have new photographs. I pressure myself, comparing what I've been able to create to other amazing photographers in the state. My life circumstances are different this year than I've ever had to deal with.
I prefer exploring and creating when I explore, with no preconceived expectation that will only lead to stress and anxiety when it's not achieved. This year, I've been limited on my time to explore, partially due to physical limitations from cancer surgery.
In June, I had every intention of exploring a beloved location in the Black Hills, while in Custer State Park for the Buffalo Roundup Arts Festival. However, when the festival came in September, I was hobbling around with a walker unable to hike and explore, in addition to the exhaustion of only 10 days post surgery to my leg.
There has to be seasons of rest (that's another blog post simmering).
Secondly, I've spent little time working on the photographs I already have and too much time on business/marketing/social media. I know this is part of running a business but at what length? If I'm spending too much time on all these other things and not enough time on what I love, have I not misplaced my time?
I want to dedicate more space to creating photographs and writing. Not writing social media posts but on my blog and maybe even start a Patreon account.
Over this past year, I've considered numerous times dropping Facebook and Instagram, dedicating those moments to my blog/newsletter. I've been overwhelmed and stressed with the constant drive for attention that social media feeds. It has not filled me.
Will I completely eliminate Facebook/Instagram? I don't know if I'm there yet. But the day may be drawing closer. I enjoy writing and using my photographs as expressions of that. My blog has seen so little activity in the past few years and with it my focus.
All of you who respond to my blog and reply to my newsletters have given me meaningful connections. Meaningful doesn't mean more, but meaningful does mean better.
Thank you to all who have stuck with me this past year, especially during my season of cancer. The journey has just begun!
God is not working towards a particular finish; His end is the process — that I see Him walking on the waves, no shore in sight, no success, no goal, just the absolute certainty that it is all right because I see Him walking on the sea. It is the process, not the end, which is glorifying to God.

Oswald Chambers – My Utmost for His Highest